Vajaan kilometrin päässä meidän hotellista sijaitsee tavaratalo nimeltään Whiteleys. Tai oikeastaan voisi sanoa tyhjenevä tavaratalo. Enään ei ollut kuin muutama liike auki. Loppuvuoteen mennessä kaikki liikkeet lopettavat ja rakennuksessa alkaa massiiviset rakennustyöt. Tuo upea rakennus muutetaan asuintiloiksi ja hotelliksi. Toivottavasti tekevät sen perinteitä kunnioittaen ja säästävät nuo koristeelliset ikkunat ja portaat.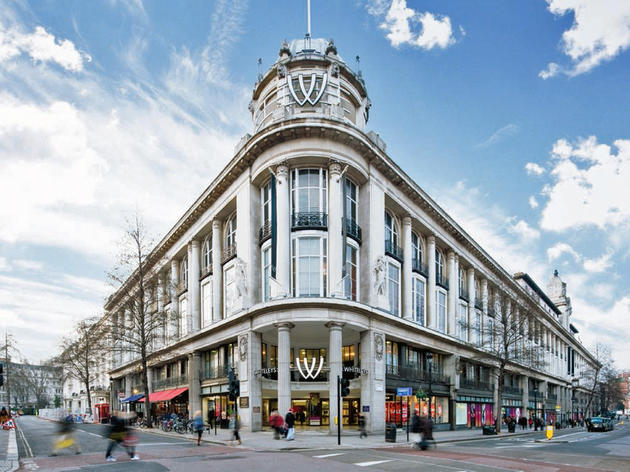 Whiteleys is a Grade II listed building with an exciting history….
In 1845 an ambitious young Yorkshire man called William Whiteley left his home near Leeds to seek fame and fortune in London.
At 24 years of age and only £10.00 in his pocket, Whiteley had a dream in his heart – to create a store in London that could offer the shopping public everything and anything.
By 1875 he had become an entrepreneur of note – buying up other shops in the area, cutting prices, offering a vast range of goods and other services from clothes and kitchenware to estate agency work.
By 1890, more than 6,000 staff were employed in the business, most of them living in Whiteley accommodation, and working 7am – 11pm, 6 days a week. Whiteley bought massive farmlands and erected food-processing factories to provide produce for the store and for staff catering.
The business obtained a listing on the London Stock Exchange in 1899, when the dream of creating an even bigger store grew nearer reality.
However, tragedy was lurking in the wings. On 24th January 1907, a man claiming to be his illegitimate son murdered William Whiteley in his store.
His two sons endeavoured to keep their father's dream alive. The Lord Mayor of London opened Whiteleys store, a magnificent edifice designed by John Belcher and J Joass, in 1912.
Initially, it incorporated several of William Whiteley's old Queens Road shops, but in 1925, the older part of the store was re-fronted and the building line set back by some15ft, to present the imposing, colonnaded façade that still dominates the Bayswater scene today, running well over 500ft along Queensway.
The new Whiteleys opened its doors on 26th July 1989 offering almost anything – women's, men's and children's fashions. Gifts, books, beauty products, fashion accessories, a wide range of international restaurants, an 8 screen multiplex cinema, bowling diner and car park.
Today key grade II listed features still remain, including the sweeping La Scala staircase, the impressive tiered atrium, windows and marble floor.
Tästäkin ostosparatiisista on tehty Tv sarja. Onko kenellekään tietoa minkäköhan niminen sarja on kyseessä?Olisi kiva katsoa se.
//Lena